'Right Patient, Every Time' comes after a series of 'serious events' within the trust's hospitals.
OUH will be putting up posters today in all four of its hospitals, designed to inform patients that clinicians must always ask them to state their name and date of birth.
The posters at the John Radcliffe, Churchill Hospital, Nuffield Orthopaedic Centre and the Horton General will explain to patients what to expect when they attend an appointment, and will be made visible in any location where patients are treated.
The trust said maintaining patient safety is at the heart of everything it does, and is committed to learning from events where patients have been given the wrong medication or treatment because their identity wasn't confirmed by a healthcare professional.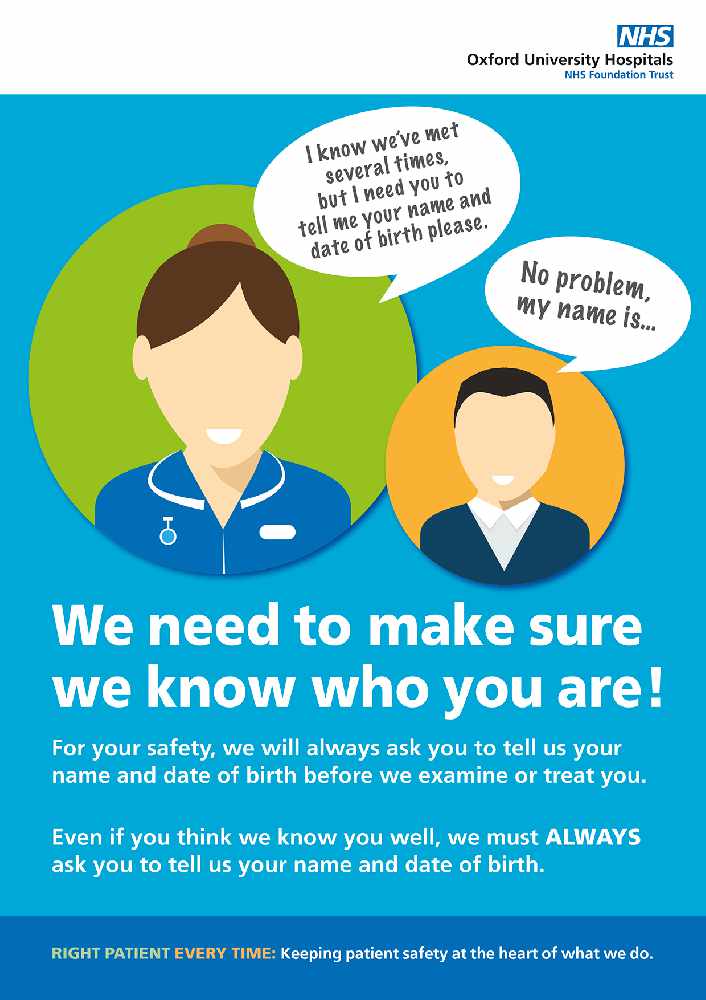 Sam Foster, chief nurse at OUH, said: "In the past, staff have met patients on several occasions and presume they know who they are caring for.
"This has not always been the case, resulting in mistakes which we understand should not happen.
"We are transparent about these issues and take them extremely seriously."
She continued: "We want to take measures to ensure our staff ask the right questions to correctly identify their patients - and that patients know what to expect when they attend their appointments."
Senior staff will highlight the importance of checking patient ID's and the poster campaign through a scheme called 'Wristband Wednesdays'.
A series of audits will take place to ensure patients are wearing correct identification wristbands and that staff are always asking to confirm their name and date of birth before commencing any treatments.
Wristband Wednesday will occur at least monthly until senior leaders can be assured the process is ingrained in the culture of OUH.
Matt Holdaway, divisional head of nursing for clinical support services at OUH, said: