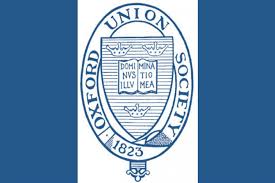 Video footage of the incident cause outrage on social media.
The Oxford Union has now responded to an incident last month, where Ebenezer Azamati was 'forcibly and violently prevented' from re-entering the union chambers.
It happened on the evening of 17th October, but footage of the incident (posted below) went viral over the weekend.
Mr Azamati is a visually impaired Ghanaian MPhil student at St. John's College and a member of the Oxford University Africa Society.
A spokesperson for the Oxford University Africa Society condemned the way he was treated by Union staff, saying 'no Oxford student / Union Member deserves to be treated in that manner, not least a visually impaired one.
'Mr. Azamati is deserving of his place as much as anyone else enrolled here.'
The society added that he was forced to leave the debate Chamber after 'simply exiting and re-entering when the program had not even begun.'
The full statement can be read HERE, and is also petitioning for compensation for Mr Azamati and the resignation of Brendan McGrath as President of the Oxford Union.
Last night the Oxford Union finally responded to requests for comment, in a post on Twitter, explaining that a complaint against Ebenezer has been dropped and his membership has been reinstated.
Please see the below statement regarding the incident prior to the No Confidence debate. Further statements and updates will be released at the earliest opportunity. pic.twitter.com/ReiKJ2bhCy

— Oxford Union (@OxfordUnion) November 18, 2019
Oxford University also commented on the incident yesterday.
In a post on Twitter, it explained that The Union 'is an entirely independent club not governed by the University,'
It added: 'This student's treatment goes against our culture of inclusivity and tolerance – we are pressing the Union for answers on how they plan to remedy the issue and ensure this does not happen in future.'
A second post by the University also confirmed that it shares 'the widespread outrage regarding the unacceptable treatment' of Ebenezer Azamati and is 'working to fully support him.'
In demanding justice for azamati, we support the impeachment of the @OxfordUnion president; Brendan McGrath to make him pay for his action. We need 150 signatures within the next 48 hours and we will be having a group walk to the union today and tomorrow from Boswell's by 5:30pm pic.twitter.com/N4VQTPfPux

— Oxford Africa Society (@oxfordafrica) November 19, 2019