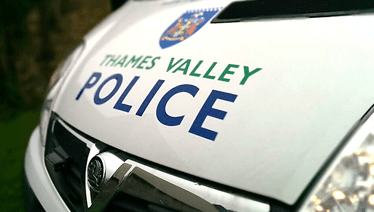 There were 324 incidents in the last year, according to new figures.
The big spike in reports is over the last 3 years.
In the 2016/17 year there were 108 recorded incidents.
Most of those involved physical violence.
Thames Valley Police says the increase shows 'victims are feeling more comfortable in coming forward to report such unacceptable behaviour.'
The TVP figures have been obtained by United Response, which approached all forces in England and Wales.
The disability charity found nationally, there has been more than a 50% rise in the number of hate crimes reported to police in the last three years.
More than 10,500 have been recorded, but, only 4% are leading to charges.
Although, the charge figures for Thames Valley Police weren't included in the new report.
Responding to the stats, a spokesperson for TVP said: "In 2018 Thames Valley Police ran the "Hidden Harm" campaign, part of which was to raise awareness of hate crime, and to encourage victims to have the confidence to come forward and report this type of abuse.
"Thames Valley Police also publish operational guidance to officers and staff in order to assist them in correctly identifying and recording hate crime, which could also have an impact on the levels of hate and disability crime recorded, but which will more accurately reflect the level of this type of crime experienced within the community.
"Thames Valley Police is committed to achieving the highest level of investigation through Operation Endeavour, not just for hate crime, but for all reported crime."
United Response says it's working with the authorities on an interactive video to make courtrooms more accessible and less daunting for people with learning disabilities.
Director of Quality & Practice Sarah Battershall said: "Just as last year, these figures are deeply worrying. The hard facts are that more and more people with learning disabilities or autism are being subjected to criminal harm and seemingly a smaller proportion of those responsible are being given the punishment they deserve.
"It is critical that these criminals are brought to justice in the right way but also educated on the hugely damaging impact their mindless and cowardly acts have on vulnerable people.
"It's clear that not enough is being done to prevent these crimes, in some cases leading to far too many freely committing the same offence again."